Where to stay in Fort Lauderdale:
Many fine accommodations can be found in Greater Fort Lauderdale. Pat says "If you've gotta have that ocean view, the hotel thats on the top of my list is the Marriott Harbour Beach. It faces the Atlantic Ocean, has 24 hour room service and valet parking. What more could a New Yorker want?"
Now if you are a boater or just wish you could sail away, Pat says his personal favorite is the one and only Pier 66. This month, it's owned by the Hyatt Hotel Corporation and the service and amenities never seem to vary from First Class. "This is the last chance for gas, between the mainland and the Bahamas" Pat says, "And Pier 66 is the point of embarkation for many vessels. Their Sunday Brunch Buffet is great by the way. And you'll see everything from my 34' express to 120' Broward Motor Yachts to John Kluge's 204' Virginian docked there. From your room you can see the ICW (intracoastal waterway), the major cruise ships docked at nearby Port Everglades and of coarse the Atlantic Ocean. Remember, the only down-side is there isn't any beach (they paved paradise). So if thats a problem, then the Marriott Harbour Beach is for you. Just slip into your suit and wake thru the lobby into the water".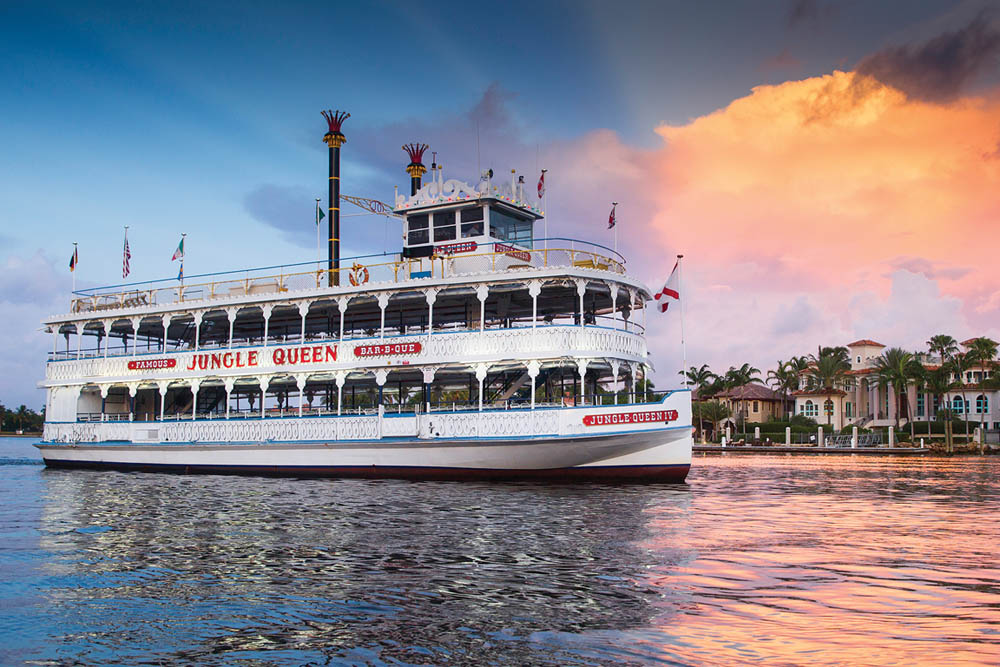 The Jungle Queen
is something you must do. It's more fun than Ruby Falls!
Pat says, "don't miss my good friend Billy Michaels 'The Man with a thousand Drunk Jokes!"
The 'ole Queen leaves twice a day from the foot of Bahia Mar Hotel & Marina
On the Jungle Queen Dinner Cruise in Fort Lauderdale, you'll see Millionaire's Row with homes of the Rich and Famous,
spectacular Mega Yachts, and other sights beyond belief.
The cruise takes you to a private Tropical Isle where you will feast on an all-you-can-eat rib, chicken and shrimp dinner with all the fixins'.
After dinner, you'll be treated to a laugh-out-loud variety show before reboarding the boat for a
beautiful and serene ride back down the New River.