Pat Appleson Studios has the solution to your next project.
Hi-Jinks ensued as the West Bloomfield High School Class of 1966 held it's FIFTY YEAR Reunion at Gino's Famous Show Bar and Pizza Academy, in charming Keego Harbor, Michigan. - See More, click here - Keego Harbor, MI - 08-17-16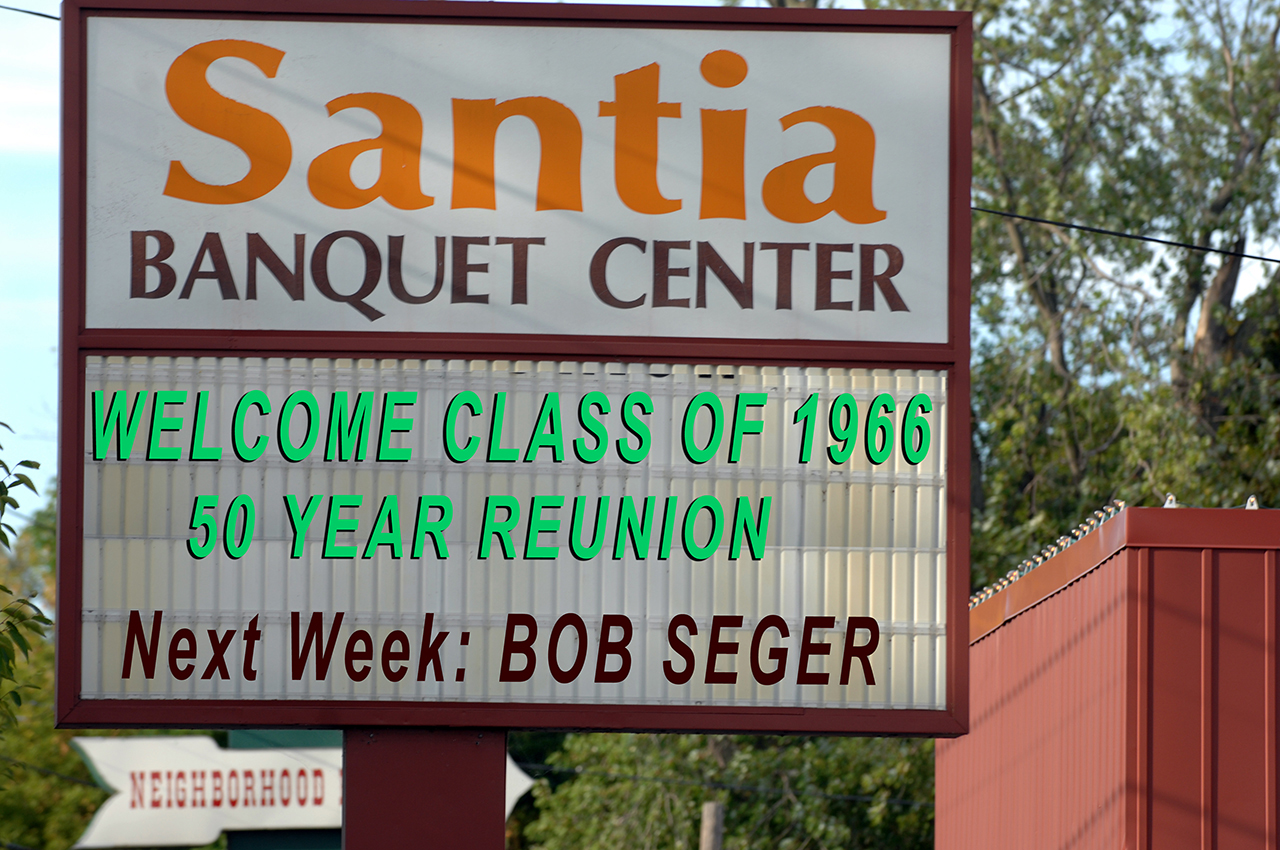 Hi-Jinks ensued as the West Bloomfield High School Class of 1966 held it's FIFTY YEAR Reunion at Gino's Famous Show Bar and Pizza Academy, in charming Keego Harbor, Michigan. - See More, click here - Keego Harbor, MI - 08-17-16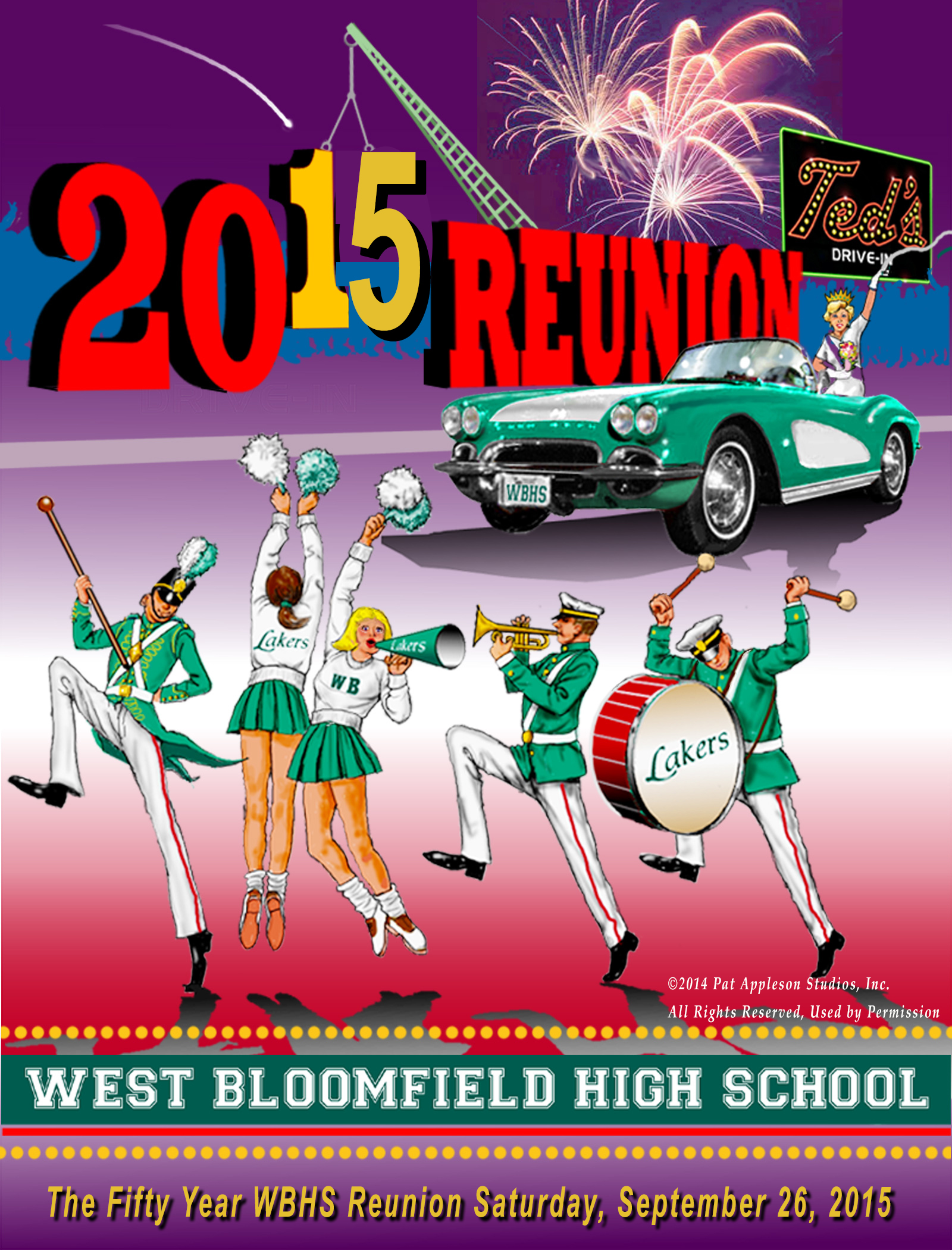 50 Year Reunion - THE CLASS OF 1965
Keego Harbor, Michigan -- The Official "Class of 1965 Reunion Committee" has picked a date for the slightly fabulous, FIFTY Year Reunion of the West Bloomfield High School Class of 1965. The committee, composed of classmates, Marcia Martin, Nancy Kern and Joanie "The One & Only" Parry have selected Friday & Saturday, September 25th & 26th, 2015, for the Event. Venue selection took hours of deliberation and in the end, gave the nod to Gino's Fabulous Show Bar & Restaurant. The main celebration will be held at Gino's "Santia Hall" overlooking the placid shores of Dollar Lake on Saturday Night. It is rumored that Class of 1963 member and venue owner, Mr. Santia, himself, will man the roast beef carving station, like he's done in past years. On Friday Sept. 25th, the day before the big Dooo, we'll be chugging a few at a sports bar in Waterford, Michigan. Marcia will be releasing details, shortly. So mark it down on your calendar and make plane reservations. Destination: Keego Harbour, Michigan. Stay tuned for more information about this once in a lifetime event.
Note: The stuff below is from past WBHS Reunions with plenty of pictures, just select what you like, right click and print out for free.
The Photos are all here including Our Lady of Refuge, just scroll way down to the list. I personally had a great time & hope you did too! I left the rest of the stuff on the page for those of you first timers to this site. - Pat the Fratt® Appleson, Class of '65.
... Below, some old friends looking for you.......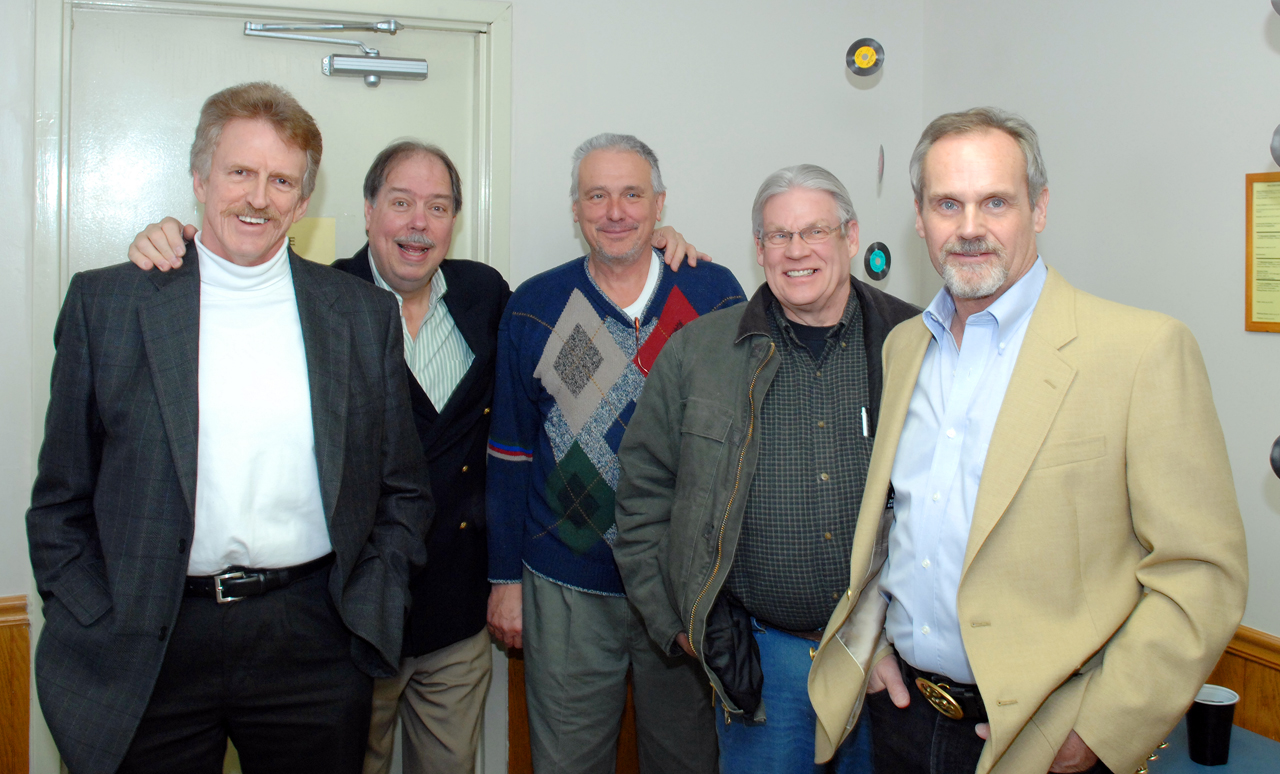 A note on the above from Pat Appleson: Jim Schmidt, Pat Appleson, Bill Means, Mike Bays & Lee Rogers. Old friends, waiting to see YOU, at the WBHS class of '65 reunion. All of the above with the exception of Lee Rogers, attended Scotch Elementary School, a feat in itself! So, from at least the seventh grade thru high school and for years afterward these four Gents have been my friends. Something about an old friend, especially at the reunion, I trust them all, no contracts or agreements needed. Just a wink and a node, a knowing glance is all it takes between us and I know I don't have to worry about anything they say or promise to do. Nothing, like old friends..........This shot was taken at the funeral service for our good friend, mentor, fellow Broadcaster and Detroit Radio Air Personality, the late Johnny Irons. I was stunned when all of them walked in. I'll never forget their kindness. -- January 2009)
... Before ......."Does Schmidt still have his Honda 50?"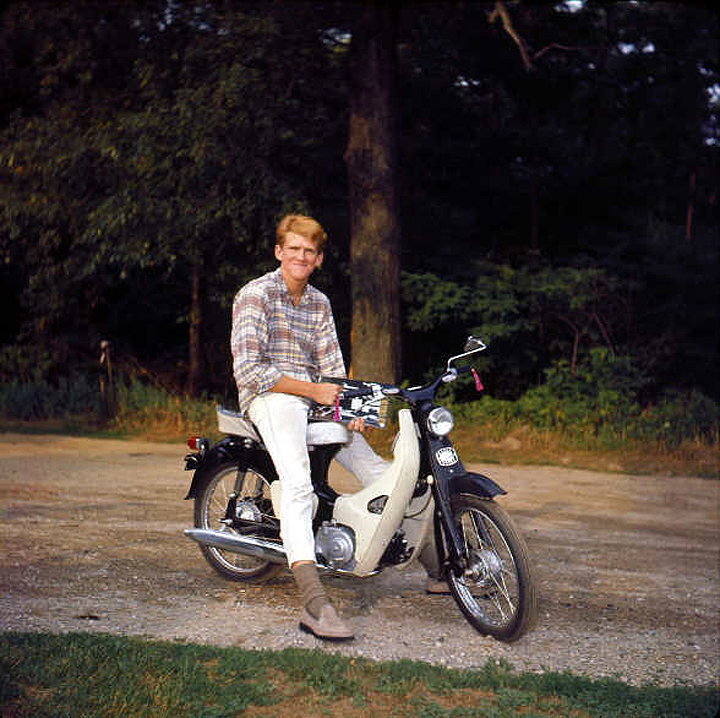 I shot Jim Schmidt on his "Motorcycle" in 1964
... and After....(47 years later)....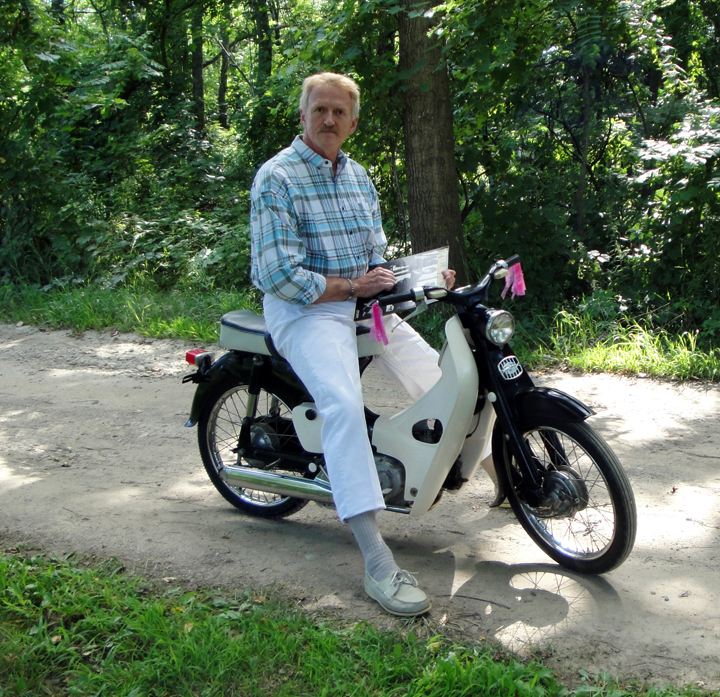 This just in from Jim Schmidt: "Alright, I'm answering the question "Does Schmidt still have his Honda 50?" I dug her out of my storage shed, cleaned her up, put on new tires, made my streamers, and got her started (after sitting over 20 years) and this is the result. You had better be impressed after all the time and money I put into this, and NO.........IT IS NOT IN THE WEST BLOOMFIELD HISTORICAL MUSEUM!!!!!!! - Jim took the photo above, this afternoon, Tuesday, July 27, 2011. Who say's things change? When we get to the reunion in a few days, I want to ask him one thing. "Where did you get that frickin' tree in the background???" (grin) (Editor's note: We didn't doctor this in Photoshop®, just set gamma & color correction. Mr. Schmidt, has the deft hand of a talented set decorator. And although I may not have told him, one of my fondest wishes in High School was that we both go to Hollywood and write & produce sitcoms. Jim was and still is, too funny and talented, I'm proud to call him my friend. Pat Appleson, '65)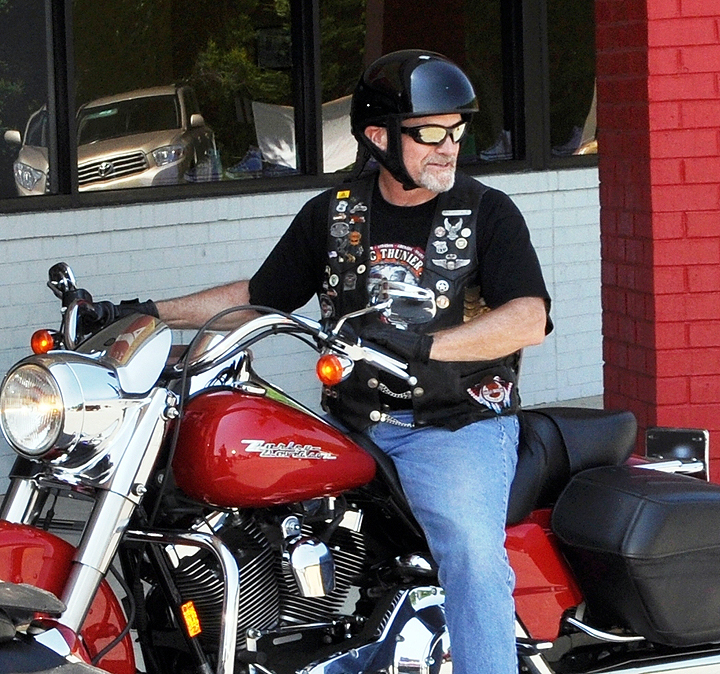 And of coarse, not to be out done, Lee Rogers, above, on his Motorcycle
"Lets take a cruise on Orchard Lake and have a grasser on Apple island." (Jim Schmidt, '65)
"Let's go over to Grout's old place and toss pumpkins at passing police cars." (Lee Rogers, '65)
"Let's go over to Grout's old place and play Peter, Paul & Mary LP's and tell the cops we're making a float for the Homecoming Queen." (Pat "The Fratt®" Appleson, '65)
"The museum? Is it not correct that this was the location of the local draft board?" (Hartford "Jim" Strong, '65)
BOLO, APB (Be on the lookout, All points bulletin) You all remember the ever charming Candy Hughes, '63? She's looking for Jim Ferguson's email address. Anybody??? (Pat Appleson, '65)
Hi Pat, Sorry we missed the 45th! You should have had the reunion in your backyard, banjo music and all. Yikes! banjo music everybody run! I thought Sue Sanderson was the Dairy Queen. God how time flies, forty five years out of high school and ten years in retirement for me. Life is good. Hope to see you Saturday night in beautiful down town Keego, next to the shores of gurgling Dollar Lake. ..snip Happy Trails (Stanley Pozdal, '65) Pat replies, Stan, Dollar Lake does not Gurgle. It's the Placid Shores of Dollar Lake. The noise you hear is indigestion of the folks in Gino's parking lot. Most of 'em can't find their car keys. (grin)
From Greg VanAcker '64: Hi Pat, Thanks for the continuing update. I forgot to tell you after the last posting that 'Keego Casual' is semi-formal in the Pacific, NW. Shouldn't Sue be cleaning her white Laker uniform? It is a home game ya know. Pat replies: Yeah, my mystake, if it's a home game the Cheerleaders wore white uniforms. Thanks Greg, for keeping an eye on those things.
This reunion is open to any classmate from any year at WBHS, but centered on the 1960's. So tell all your friends. And the whole thing is Keego Casual, so don't worry too much about dressing up. Besides you don't want to get pizza grease on your best jacket or dress.
This year we're pleased to have that "young chick" Sue Sanderson-Williams hold the title of Producer. Sue tells me that over the three day weekend of August 5-6-7, 2011, which is just around the corner, that the festivities will go something like this:
Friday, August 5th, a visit to the Greater West Bloomfield Historical Society Museum. You know where it is. Top of the hill, Orchard Lake Road and Long Lake Road (City Hall). Museum tour - 5 p.m. - 8 p.m. hosted by the Greater West Bloomfield Historical society Orchard Lake Museum, 3951 Orchard Lake Road at Long Lake Road. This should be a lot of fun, really.
The original structure was built in 1854 as the Orchard Lake House. Later renamed the Orchard Lake Hotel, it was razed in 1938 and replaced with the current structure housing the Orchard Lake City Hall. In 1987, when a new city hall was constructed, the Greater West Bloomfield Historical Society was granted use of the building as a museum.
This just in, informed sources say that the new Eddie LaPratt wing, unfortunately won't be open till later in the year. And because of red tape with the Liquor License, the Tribute to Bill Bonds, Bar & Lounge will also be delayed. You'll remember that Mr. Bonds purchased Bruce & Jim Ferguson's home on Green Lake, a few years back.
Search the Museum's virtual exhibits containing more than 1,500 photos and scores of documents about: City of Keego Harbor, City of Orchard Lake Village, City of Sylvan Lake, West Bloomfield Township, Apple Island, Hotels, Motels and Inns, Michigan Military Academy, Restaurants (they must be talking about Wilkins or Gino's) Sailboats and Iceboats.
Items permanently on display include: a 17th-century dugout canoe, Roy C. Gamble's 1928 painting, Mary's Little Lamb, from the Daniel Whitefield School, the Keego Cinema sign, a neon landmark for 60 years (no, I didn't make that one up. Gee, I hope they replaced the bulbs)
Also, the letters 'borrowed' from the Bank of Lansing Sign, circa. 1964, Pat Appleson's Varsity letter, he won in Band back in the seventh grade. Jim Schmidt's Honda Motorcycle. And the old '58 Buick Roadmaster where Lee Rogers got lucky at the Commerce Drive-in with _________ . (fill in the Blank)
Ok, I added the last four, but it could true. Then as Sue says, "it's on to Mary Donnelly's for drinks". Wait, you mean there is another bar in Keego besides Gino's??? I personally never knew Ms. Donnelly, but I guess she's thirsty. Just follow Sue, she knows the way. Something to do with the "Rock of Keego" I think she said, if you can see the rock (Orchard Lake Road at the Clark station) you can walk to it. You know, just before you get to the Dairy Queen. Which is a must do, whenever I'm in the lower Peninsula.
Saturday Aug 6th - 7:30pm to 12 Midnight EDT: It's back for Pizza and Beer at the Jet Set's favorite watering hole, the one and only Gino's Santia Hall (turn left at the Rock, you can't possibly be coming from Waterford). Sue says the dress is Keego Casual. So you can even wear a tee shirt and the jeans you slept in last night. It's open to all 60's classmates and hangers on cash bar - pizza and salad - dress casual - pay at the door (because it's in the larger hall, it's $20 per head. I'll check to make sure but IMHO that's more than fair.) Old Gino has always got great food, I hope I can get anchovies in my salad, I love 'em. The anchovies, not Gino.
Sunday Aug 7th from 2pm EDT: A potluck picnic at Sue's estate, secretly located in Oakland County. Or as Sue put it, BYOB. Sue sez: hot dogs, etc served, bring your own drinks, please sign up on Saturday night to come to this picnic.
Questions: ping me at pat@appleson.com. And if you have any email addresses of classmates send them along. I'll be looking for you. (grin)
Warmest personal regards Pat
Doug Ash and Pat Appleson select Sue Sanderson-Williams as the "Queen of the Hop" and Producer for the reunion WBHS Live at 45, Class of 1965 Reunion ®™ Everything you need to know is printed above. Questions? email me at: pat@appleson.com, then stay tuned. It's going to be a great event. More fun than borrowing letters from The Bank of Lansing.
Signed: Pat Appleson and Doug Ash
... did he say Tajmahal or VFW Hall????...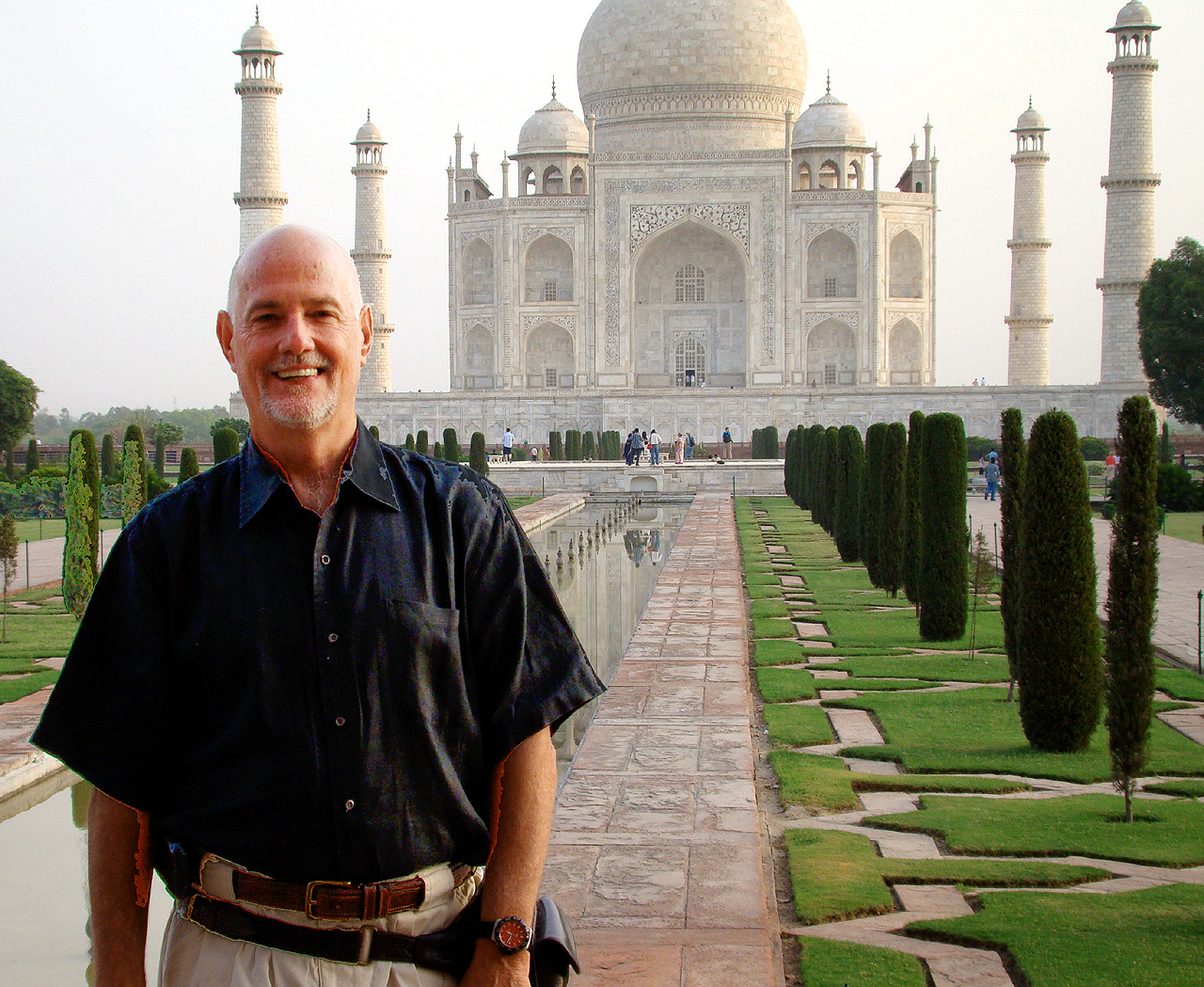 Classmate Doug Ash embarked on a Fact Finding Mission to India to see for himself if this location was good enough for the high standards of WBHS Class of '65's next reunion. Sadly, he reports it was not. Doug says "you couldn't get a good hamburger within 1500 miles of the place." Scratch another destination off the list. - L to R: Doug Ash with Taj Mahal in background. Doug travelled four hours north of Mumbai to Agra, to see the Taj Mahal, one of the most famous buildings in the world, the mausoleum of Shah Jaha-n's favorite wife, Mumta-z Mahal. It is one of the New Seven Wonders of the world. Pat says, "deery me, it's just like being there." - Bombay (Mumbai), India May 2009
... I'll have the Peking Duck, please...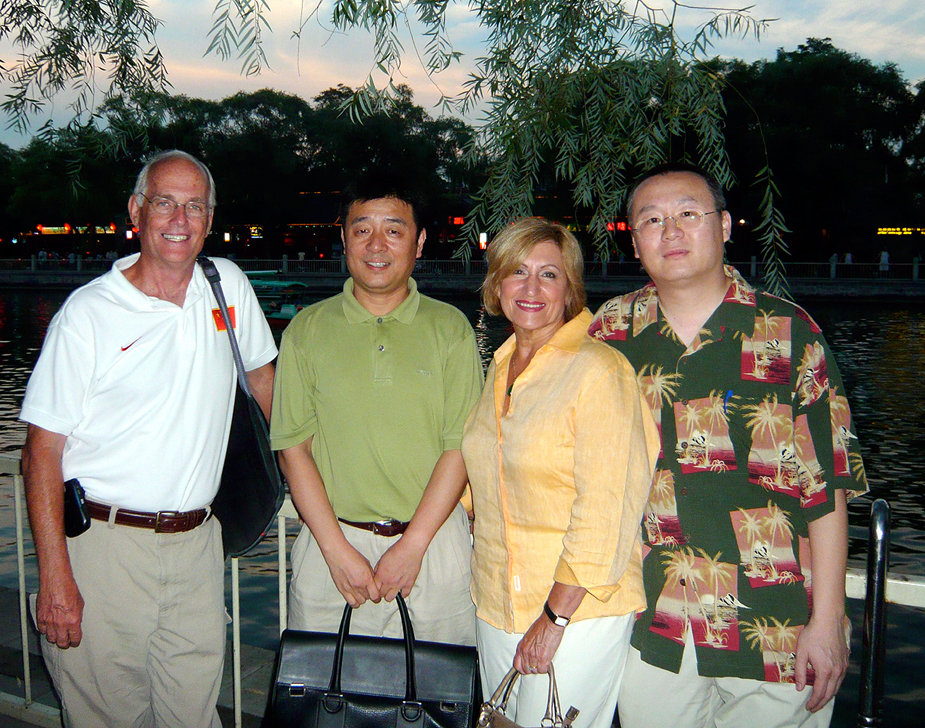 Doug Ash, Managing Director, The Hutton Group, Inc., with international client Ed Shao, Shirley A. Hutton President & CEO, The Hutton Group, Inc. and Dundee Dang, General Manger, Beijing Shi Ao Investment Co, Ltd., The Hutton Group's Chinese representative. Doug and Dundee have worked together for the last 7 years on the 2008 Olympic Games® and together have created a successful consulting company for the Chinese Hospitality Industry. They secure hotel management companies for local developers and have three successful hotel projects already up and running including the Park Hyatt Beijing. goto:For more information Click here Pat sez... " sorry Doug Son, the duck is too greasy"...
... What? A rock pit??...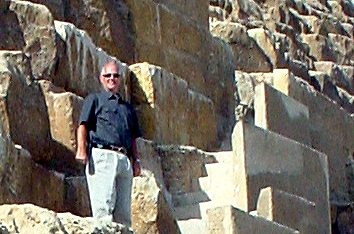 Take a closer look. Doug be careful...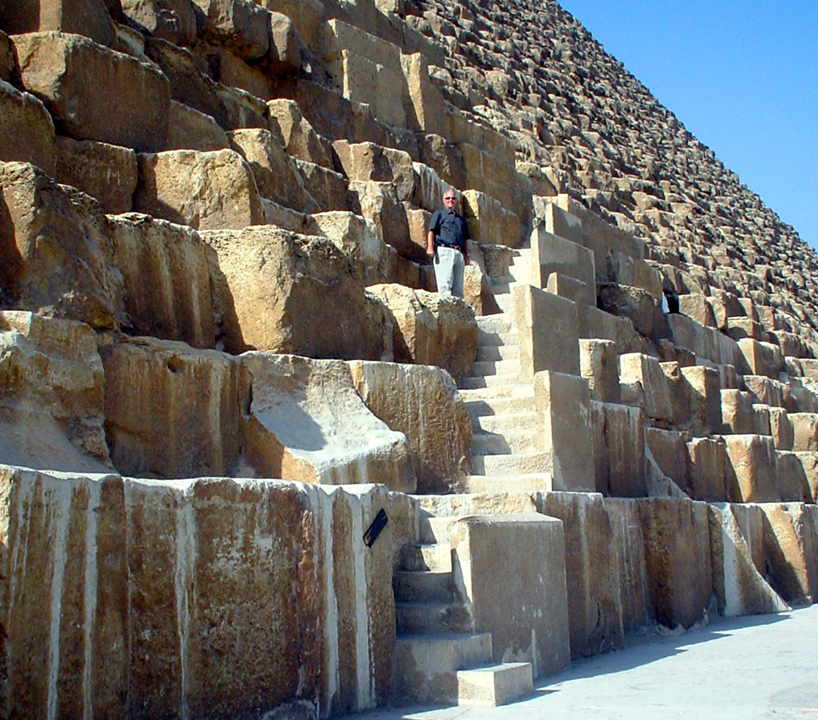 Classmate & Official Member of the WBHS Destination Committee, Doug Ash, goes rock climbing, in search of another venue good enough for the Class of '65 to hold their 45th. Reunion. With compass still in hand & GPS in his pants, Doug journeys west to check out one of the Seven Wonders of the Ancient World. The Great Pyramid of Giza is the oldest and largest of the three pyramids in the Giza Necropolis bordering what is now Cairo, Egypt. It is the only one of the Seven Wonders of the Ancient World that survives substantially intact. It is believed the pyramid was built as a tomb for Fourth dynasty Egyptian King Khufu (Cheops in Greek) and constructed over a 20 year period concluding around 2560 BC. The Great Pyramid was the tallest man-made structure in the world for over 3,800 years. But, alas, Doug nixes the venue. Too hot, no air conditioning and the transportation (camels) have bad breath. Next it's on to another reputed Seven Wonders of the Ancient World, found right in Michigan. It's Sherry Yagoda's bedroom. Reportedly untouched since Doug was there in 1964. Pat sez... "wow, I thought I was the only one that couldn't get to first base with her"...
*******Below is stuff from the previous reunions*******
Class of 1965 Forty Year Reunion
We had a wonderful time, See pictures Below!!!
Theme for the evening: "I ain't as good as I once was, but I'm as good once, as I ever was"
From Ted's to Gino's..... A 40 year Odyssey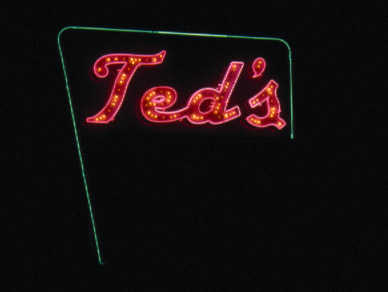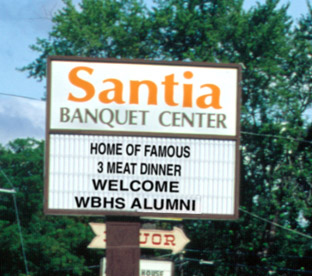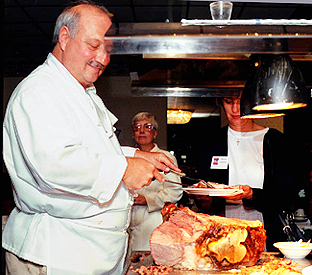 Ted's Drive-In animated sign towered high above Woodward Avenue, casting that 'ole neon glow that could be seen for miles. This is how it looked Friday night, August 14, 1964. Gino's marquee towers high over the parking lot on Cass Lake Road. As always, the man himself, towers high over the carving station.
Even if you're still on "Double Secret Probation", your presence is required.